Words Rock - Presetting Content Selections for students
Teachers and parents can preset a Content Selection for students to work on.
The Content Selection can be selected from any of the Curriculum Correlations. See the section for details on choosing curricula.
Once applied to a student's account the student will be locked out from doing any other work.
The endures for the time nominated or until a teacher or parent unlocks the student's account.
can be applied to one, many or all of the students in a class or family.
Working with Content Selections
Creating and applying a Content Selection
Access the Words Rock Tools & Reports section by locating the Words Rock tile in the EdAlive Central App library, then choose Tools & Reports from the pop up that appears. This will take you to the My Classes screen from where you then select the desired Class. The list of students in the Class will then display. Select the Students to whom you wish to apply content and then click on the Select Content button, select the desired Content, then click on Save.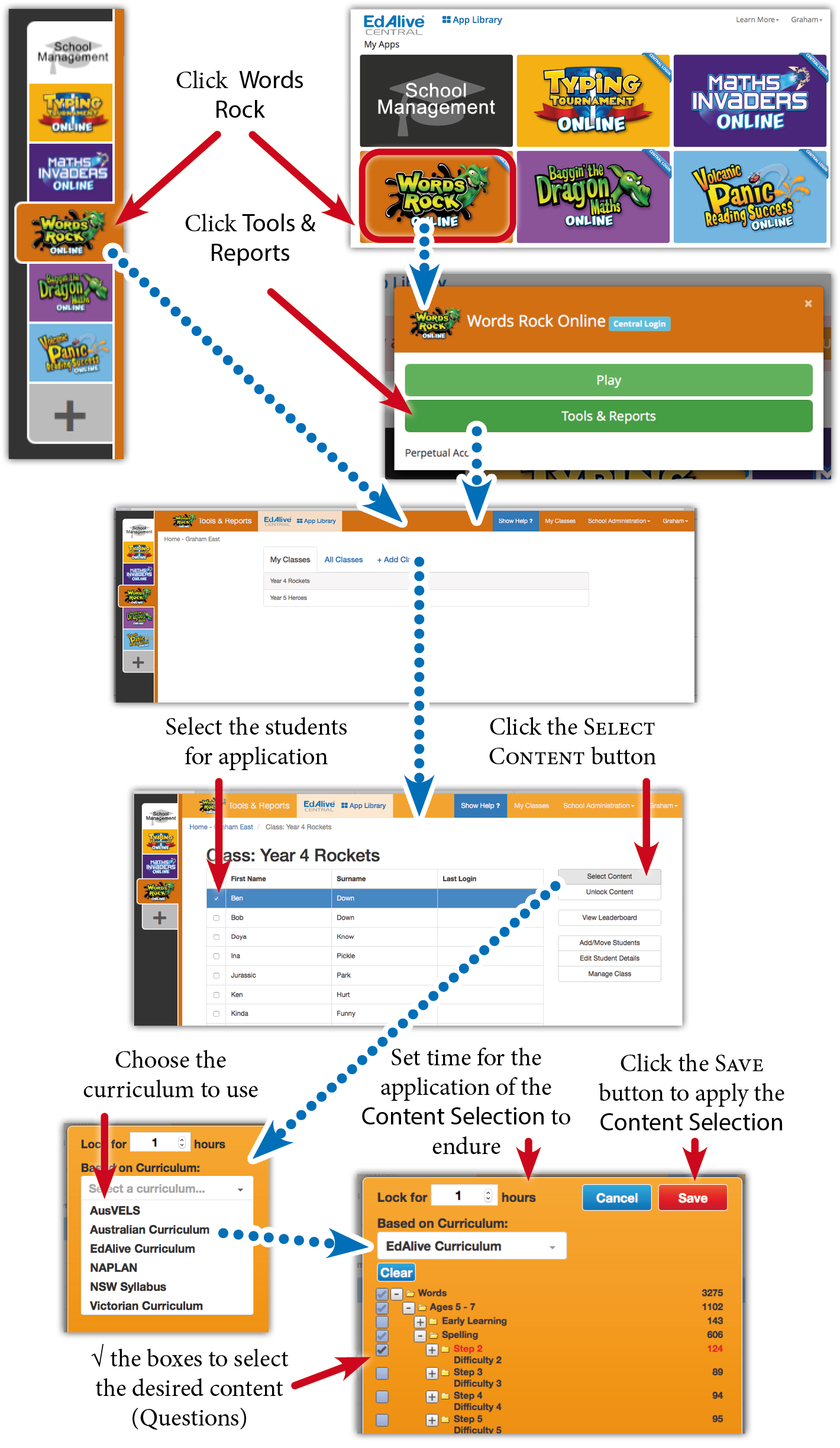 Unapplying a Content Selection
Content Selections can be unapplied by using the Unlock Content button.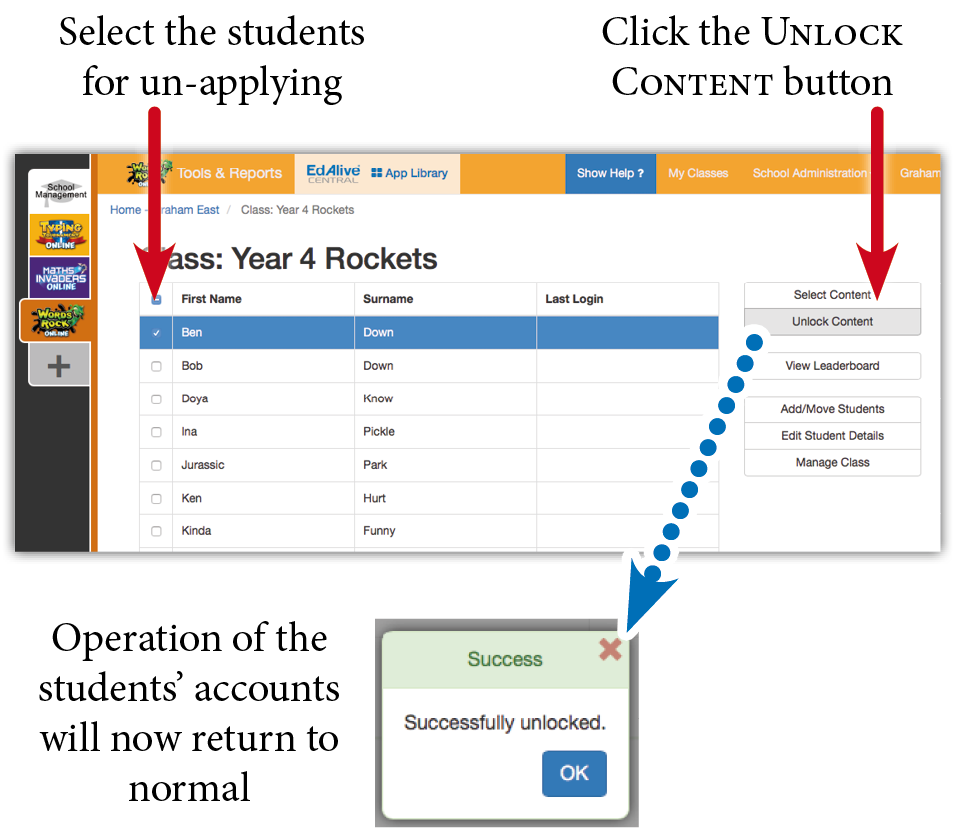 Students' use of Content Selections
Once a Content Selection has been applied to a student's account, they are locked from completing any other Questions until either the specified time has elapsed or the Content Selection has been removed.
When a Content Selection has been applied the student sees the following: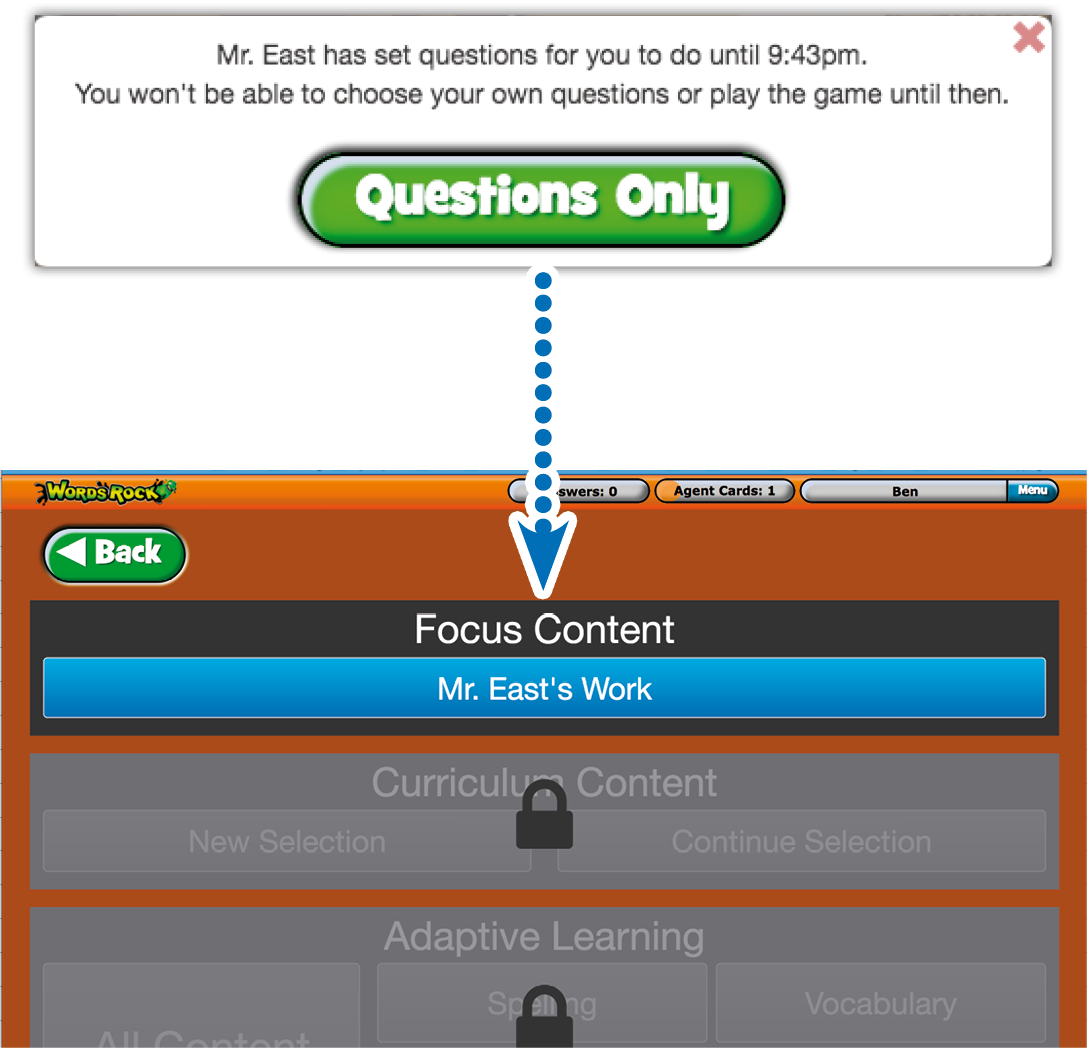 Related Articles

Words Rock - Literacy Content

At the heart of Words Rock is a comprehensive bank of Questions that have been skilfully hand-crafted and sequenced by experienced teachers. The EdAlive educational team created the core teaching sequences at the heart of Words Rock Online by ...

Words Rock - Words Rock Game

At the heart of Words Rock Online is the fast-paced Words Rock Interactive Real-Time, Multiplayer Game that is fully integrated into Words Rock Online. Words Rock harnesses the appeal of online gaming and teams it with the EdAlive automated Adaptive ...

Words Rock - Reporting

The reports relating to each student's activity within Words Rock Online are accessed from the Tools and Reports screen. Access Tools & Reports School-based reports are accessible to teachers. To access the Words Rock Online Tools and Reports screen ...

Words Rock - Playing Words Rock

Words Rock can be played by a student on their own or in a group. It is easy to start, join or host a game. The system automatically does all of the hard work for teachers and parents. It concurrently manages the gameplay, recalculates the options ...

Words Rock - About Words Rock Online

What is Words Rock Online Words Rock Online is a comprehensive literacy programme that harnesses the power of Adaptive Learning to free teachers from the tedium of managing students' progress. It automatically ensures that students are always working ...