At the heart of Words Rock is a comprehensive bank of Questions that have been skilfully hand-crafted and sequenced by experienced teachers.
The EdAlive educational team created the core teaching sequences at the heart of Words Rock Online by deconstructing the curricula from many jurisdictions around the world including Australia, New Zealand, Key US States, United Kingdom and Ireland. These fine-grained educational elements were then sequenced to form the EdAlive Curriculum. The result has been the creation of a matrix of Questions that is both broad and progressive in its scope.
Once formed the EdAlive content creation team set about building a diverse, broad-ranging set of Questions to teach and illustrate each of the identified outcomes. By this process the rich resource that is the EdAlive Question Bank was created. It is this carefully crafted matrix of instructional material on which the EdAlive curriculum correlations, content selections and the automated Adaptive Learning system draw.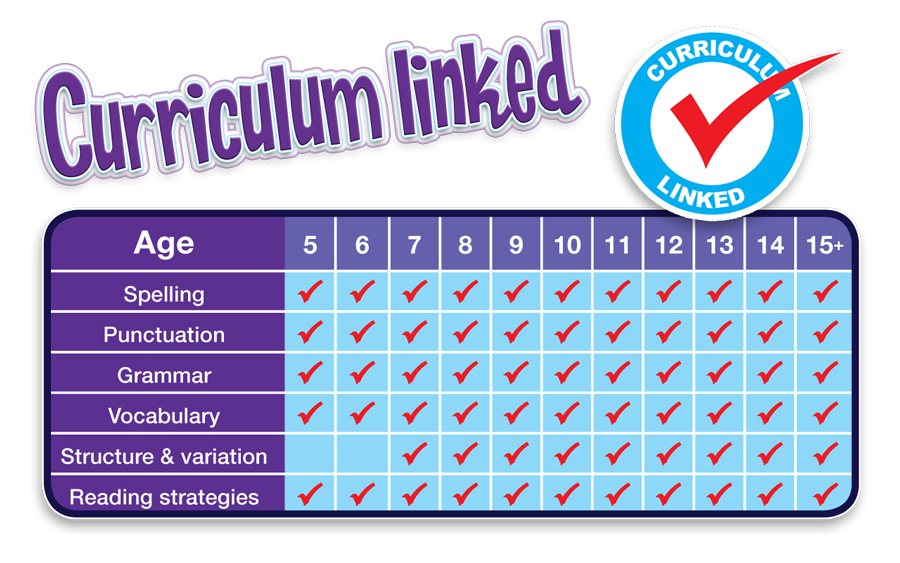 Every Question and its organisation is intentional
Each of the in Words Rock Online has been included to meet specific learning outcomes identified in the comprehensive, rigorous planning that preceded their creation.
Because each and every in Words Rock Online was designed with a particular outcome in mind, there is absolutely no time wasted on superfluous content.
Words Rock Online provide scaffolding for weaker students and enrichment activities that will engage and extend even the most inquiring minds.
Learning sequences are designed directly into the sequential, finely incremented educational content.
The educational content within Words Rock Online has been rigorously tested by millions of users!
Attributes of the Words Rock Online activities
Students progress through carefully sequenced levels with each year level broken down into multiple incremental .
Features a broad range of and types, including text input, missing answer, drag-and-drop, multiple choice, true or false and more!
The diversity of type and the accompanying humour maintains each student's interest and helps build their skills.
Positive feedback and correction through detailed answer screens gives reinforcement.
The are full of quirky characters, puzzles and tantalising problems that challenge and extend students across a wide range of learning styles.
Grow word smart kids: Years K – 10
The massive literacy content starts with pre-literacy Questions then moves to an exploration of the building block of words through spelling, grammar and punctuation to a challenging exploration of richness of the English language.
Draws students into using words in meaningful ways.
Helps students build vital strategies to deal confidently with the English Language.
Soaks students in language - enriching their vocabulary and giving them the understanding they need to produce clear, concise and correct texts.
Progressively explores the building blocks, conventions and frameworks of English.
Gives every student a positive and empowering language experience that is just right for them.
Literacy skills covered include:
Early Learning
Builds Pre-Literacy skills with preparatory to draw young students into using words in meaningful ways through play.
Spelling
Promotes confidence in understanding and using correct spelling.
Explores vital strategies so that students can deal confidently with the various building blocks of words.
Carefully builds recognition of words that use both simple and complex spelling patterns.
Stimulates students to understand and remember how word parts fit together.
Grammar & Punctuation
Promotes confidence in understanding and using correct grammar and punctuation.
Provides explanation of more difficult concepts in spelling, grammar and punctuation.
Vocabulary
Fosters understanding and enjoyment of language.
Promotes higher-order language thinking and problem-solving skills.
Expands and enriches vocabulary and stimulates each student's ability to use words in context.
Soaks students in language - enriching their knowledge and providing a broad word base to build on.
Identifies and systematically resolves the more baffling aspects of English spelling and other common difficulties.
Includes: idioms, clichés, word roots, borrowings from other languages, archaic expressions, alliteration, connectives, synonyms, antonyms, homophones, onomatopoeia, collective nouns, metaphors, similes, puns, tautology, irony and hyperbole.
The EdAlive Curriculum Structure
The EdAlive Curriculum Structure is displayed in multiple locations within Words Rock Online. Depending on the context it can be used to select content, display progress or access reports. Within this hierarchy are located all of Questions accessible via the different Curriculum Correlations with the most expansive Curriculum Correlation being the EdAlive Curriculum.