EdAlive Central (Schools) - Password Reset
If you have forgotten your password it can be reset as follows:
Enter your email address on the screen. (The email address entered must be one that has previously been used with an .
Click on the link:
An email will be sent to the email address entered. If you receive an error message indicating that the email address you entered couldn't be found then you may need to try a different one.
Locate the email and click on the embedded

Password Reset

link and follow the on-screen instructions to choose a new password.
Once you have reset the password you can then login to

EdAlive Central

and proceed.
NB The password reset link embedded in the email will expire 60 minutes after it is sent. If it has expired when you go to use it, simply repeat the process above and use the fresh link within 60 minutes.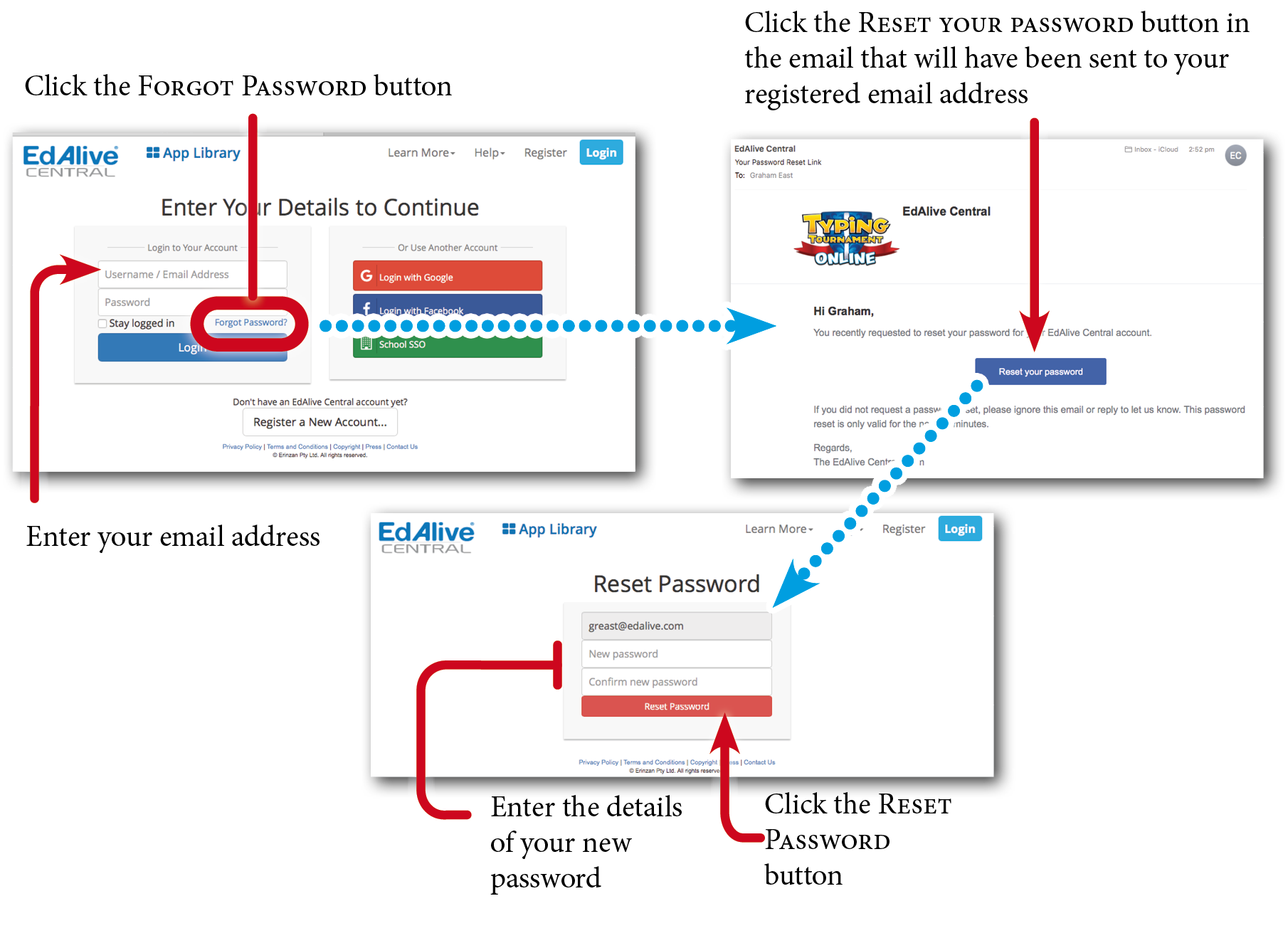 Related Articles

EdAlive Central (Schools) - Getting Started

Are you looking for help with Home and Family Accounts? View the Home User quick start guide here... Start a Subscription or a Free Trial Before using any of the EdAlive Web Apps teachers must first create a Teacher Account and then link it to the ...

EdAlive Central (Schools) - Manage Students

To give schools flexibility in setting up Student accounts in congruence with their student privacy policies the EdAlive Central system uses a highly flexible system with minimal required student information. To access the Class screen choose School ...

EdAlive Central (Schools) - Printing

PDF printing In order to maximise printing compatibility EdAlive Central sends its printed output to PDF files. The PDFs are saved to the default download location for your browser. To print the files, open them in a PDF viewer and print. Printed ...

EdAlive Central (Schools) - School Administrator Functions

The Role of a School Administrator Each School starts with one designated School Administrator. This first School Administrator can assign Administrator status to any number of the Teachers at the School. The role of an Administrator is to perform ...