| | |
| --- | --- |
| | Are you looking for help with Home and Family Accounts? |
Start a Subscription or a Free Trial

Before using any of the EdAlive Web Apps teachers must first create a Teacher Account and then link it to the School they teach at. This process can be instigated from any of the EdAlive Web Apps or from EdAlive Central. The creation of Teacher Accounts and School linking takes place in EdAlive Central. Following are some of the ways you can get started:

30 Day Free Trial

Go to the home page of any of the EdAlive Web Apps such as Typing Tournament Online or Maths Invaders Online and click on the Free 30 Day School Trial button or go to central.edalive.com/go.

Enter your details to create a Teacher Account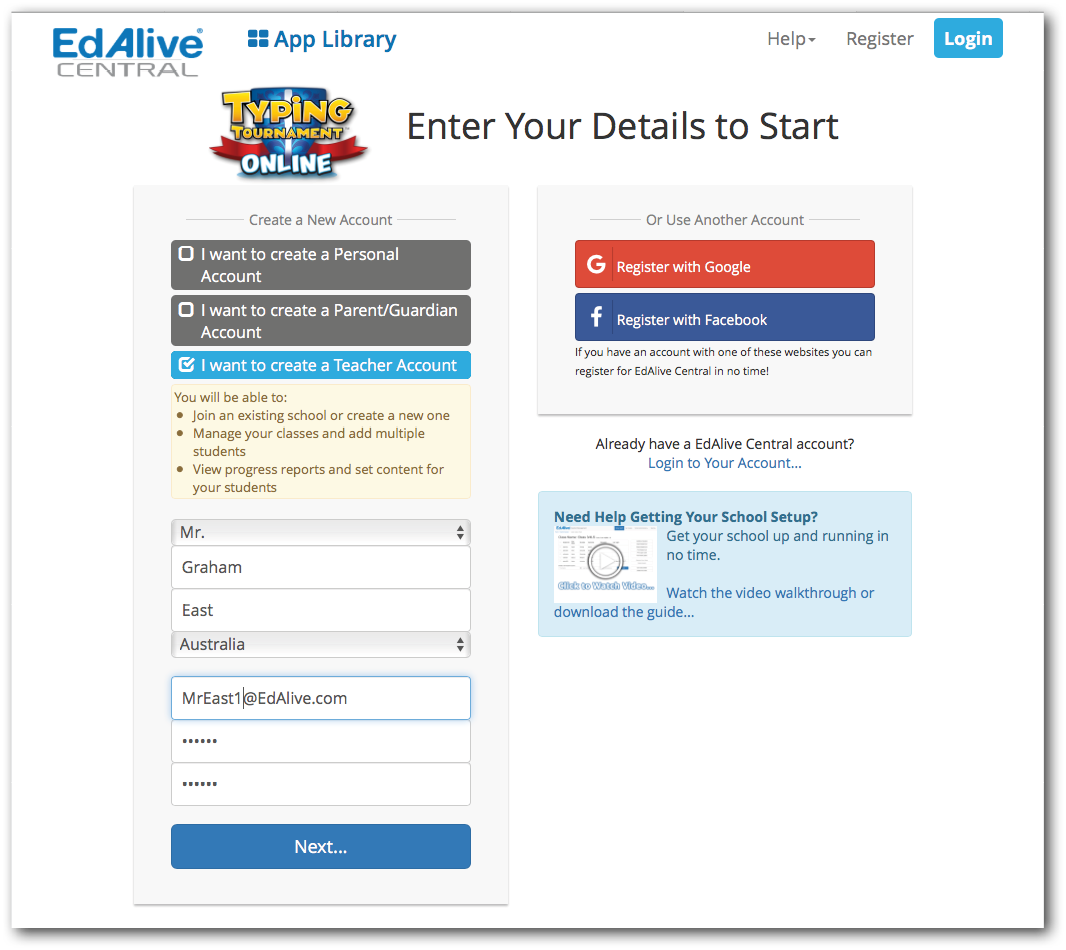 Check the box:

Enter your and select your

Enter an that you use in relation to your work as a teacher.

Enter a password that is at least 6 characters long.

Press the

Next

button.

Link to your School

Your Teacher account will now be linked to your School.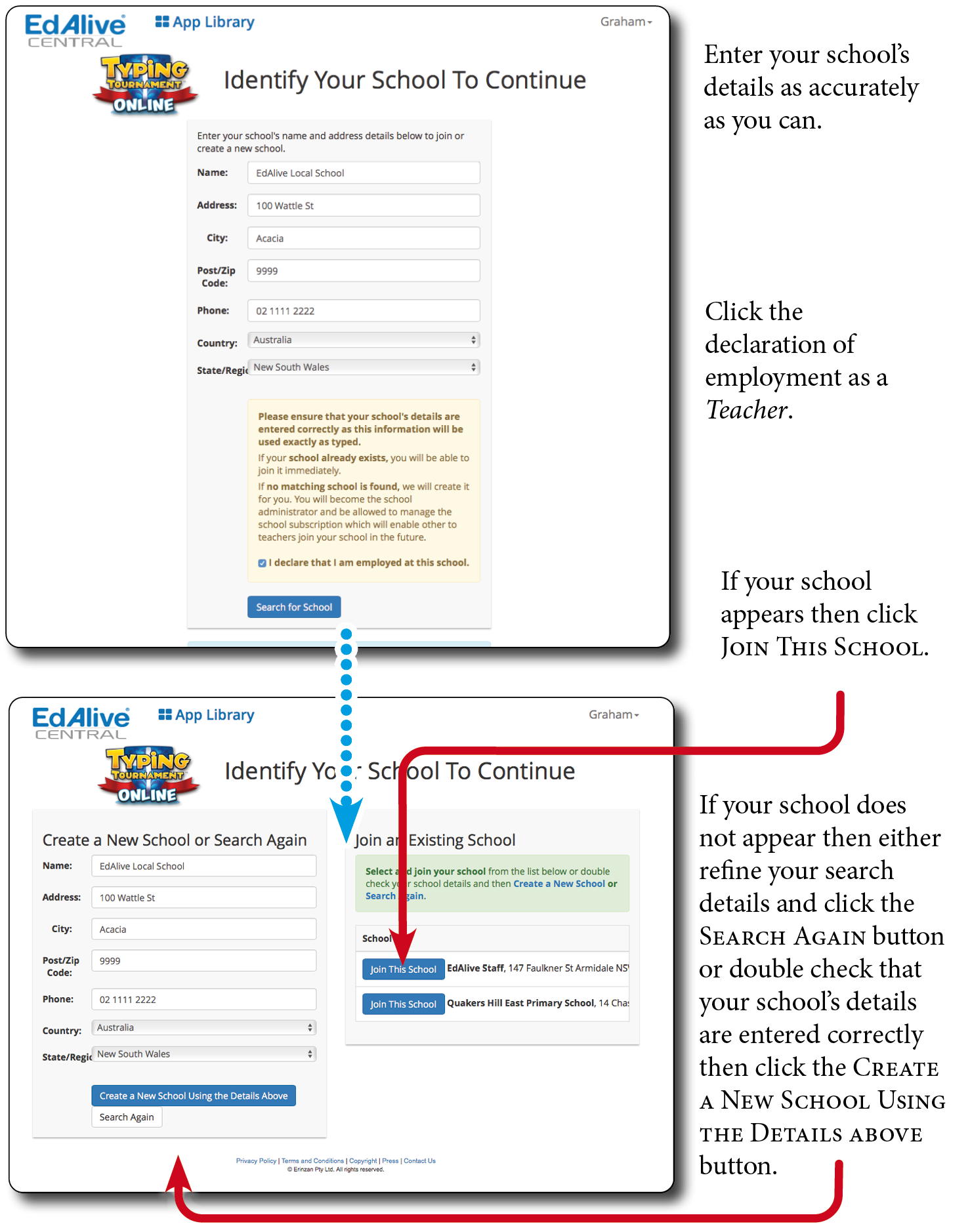 Join an existing School

If your School already exists in EdAlive Central it will appear as a result of the search above.

A list of matching will appear. If your is one of them, click the blue

Join This School

button beside it.

By joining an existing your account status will be that of a at that and not of a .

Create a new School

Use this option if your School does not already exist in EdAlive Central.

Double check that you have entered your school's details correctly.

Click the blue

Create a New School Using the Details Above

button.

You will be the first at this new and will be automatically allocated status.

A series of related dialogue boxes will appear. Ensure you read them. Click OK for them all.

School Administrator status

School Administrators can access the options in the School Administration menu at the top of the School Management screen. If you are not a School Administrator you will find the names of your School Administrators by clicking on the School Administrator menu. For more details see the separate School Administrator section in this document.

School Administrator no longer at the School

If there is only one School Administrator listed and this person no longer works at your School please contact us to change the School Administrator.

Navigating within EdAlive Central

Navigation within EdAlive Central and the Tools and Reports sections of the EdAlive Web Apps is consistent. The following illustrates navigation in EdAlive Central.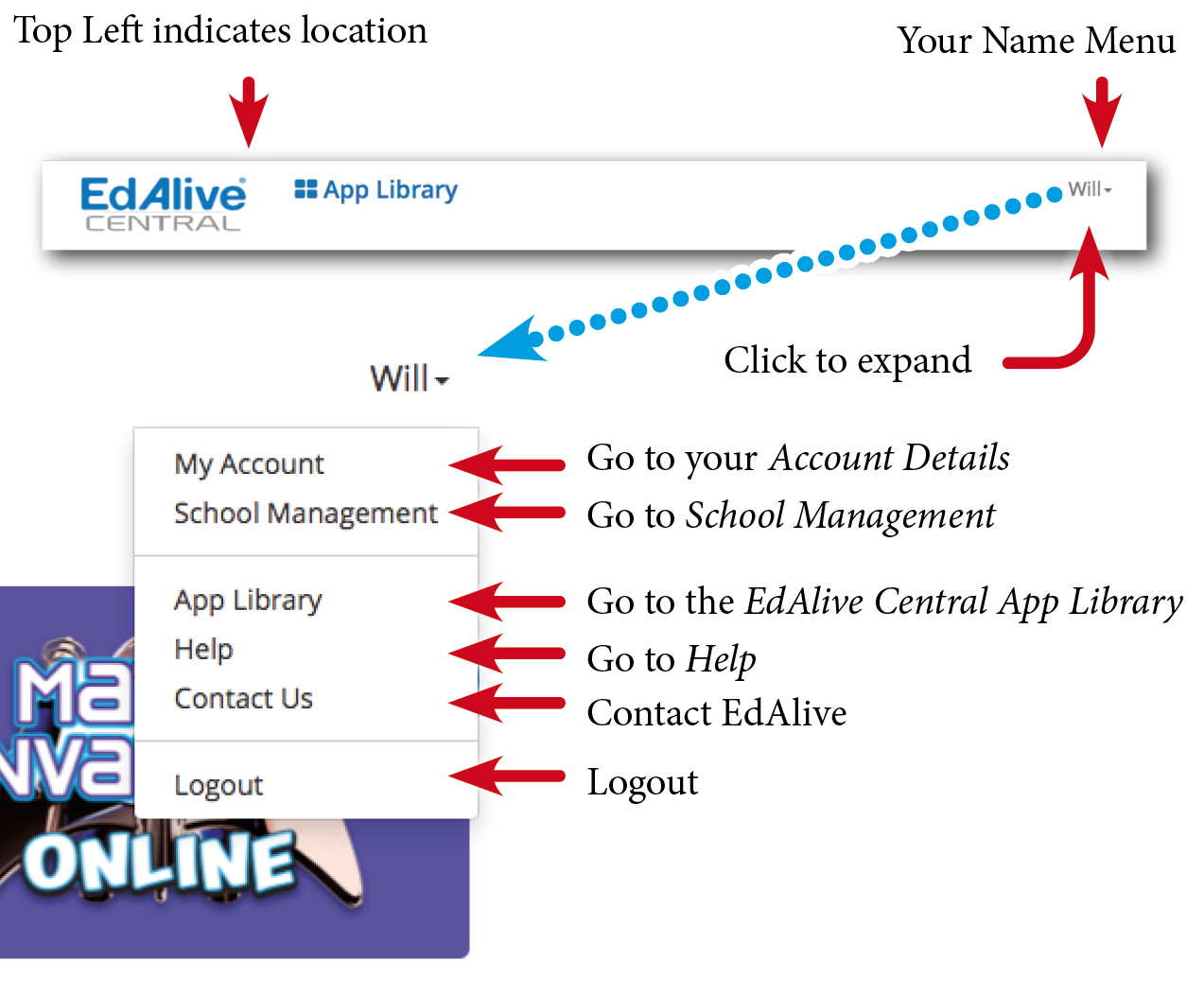 Quick navigation shortcuts

Quickly move between School Management and the Tools & Reports sections with the side navigation tabs.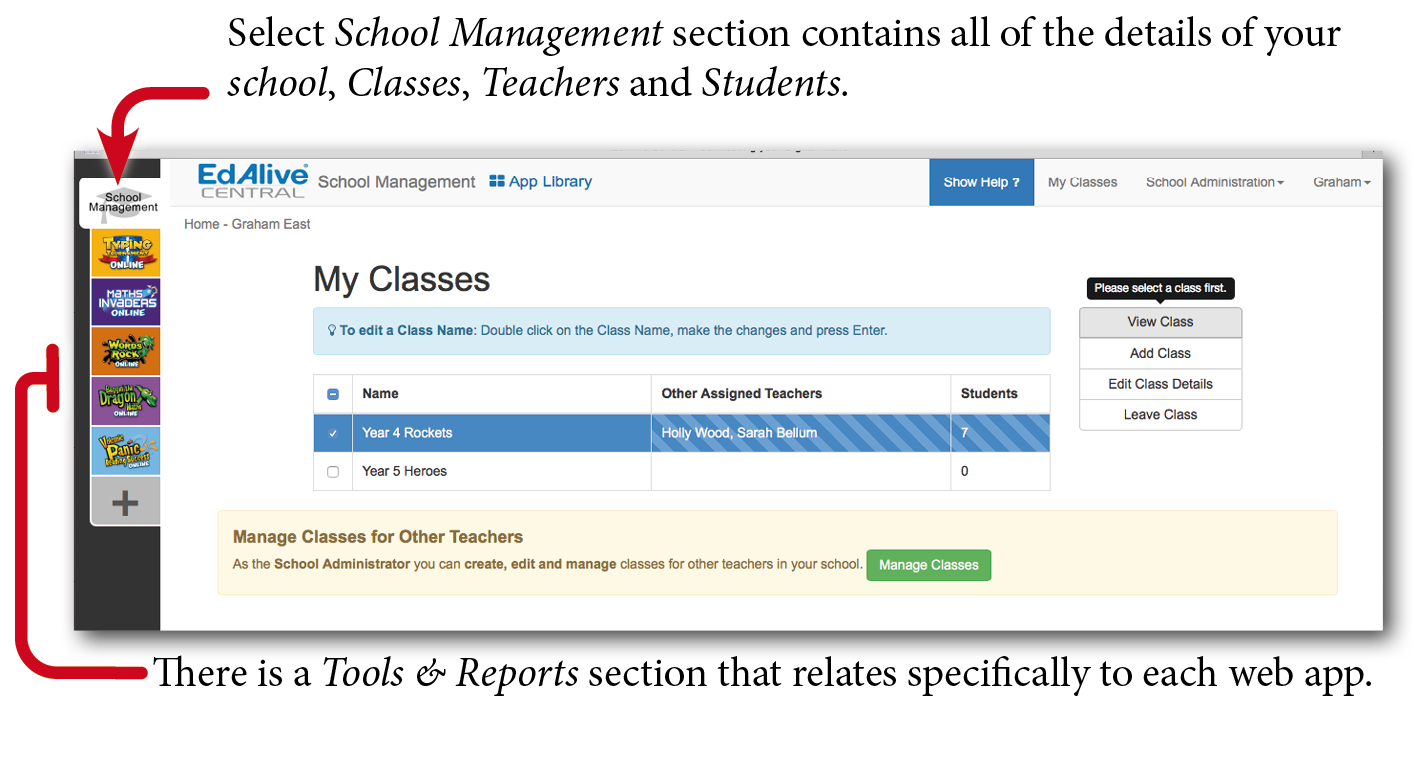 Main EdAlive Central screen

When using any of the EdAlive Web Apps users are frequently directed to the main EdAlive Central screen which connects all of the EdAlive Web Apps. It operates as an app store, a school management environment and a way of navigating between the various EdAlive Web Apps.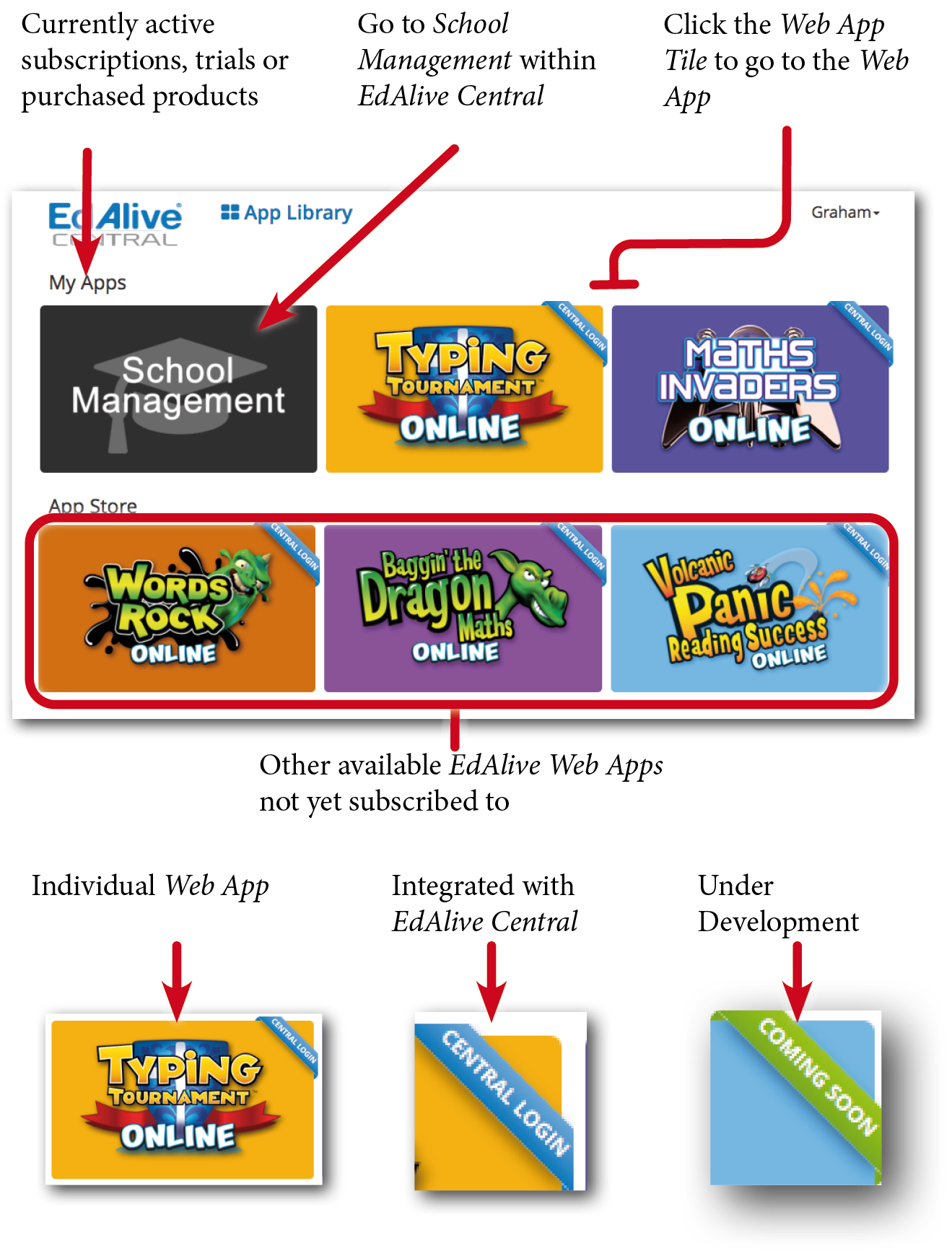 Default sort order

Lists of students in EdAlive Central and in each of the EdAlive Central Web Apps are sorted alphabetically according to their First Name by default.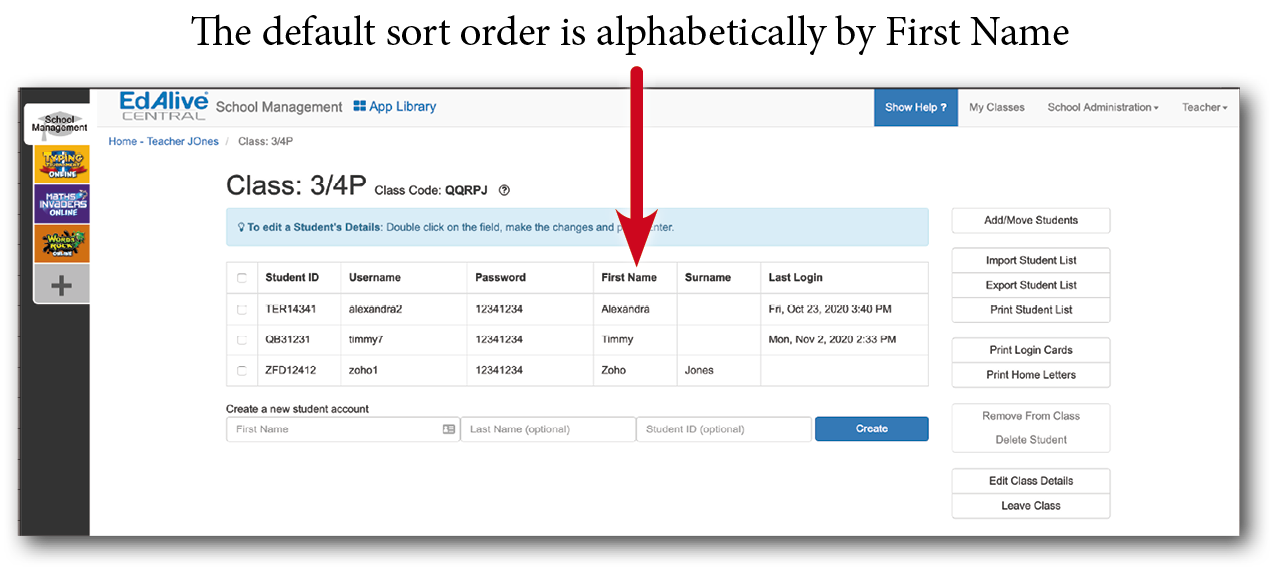 Sortable Lists

In most lists in EdAlive Central and in each of the EdAlive Central Web Apps you can change the sort order by clicking on the column headings above the list. Click once to sort in ascending order and again to sort in descending order. An arrow indicating sort order will appear beside the column heading.